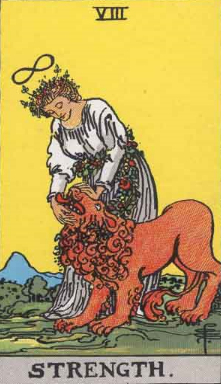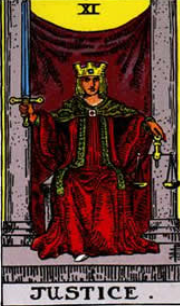 Some of my best friends read with decks in which Strength is numbered 11 instead of 8 and Justice is 8 instead of 11. In fact, I own eight tarot decks and five of them use this numbering system.
Horrors!
How can this be?
The first tarot cards we know of, The Visconti-Sforza decks, were painted in Italy in the 15th century and didn't number the major arcana cards. At least the ones I've found on line didn't. Most subsequent decks did number them, but their order has been constantly switched and different cards, such as the virtues Faith, Hope, and Charity have been added and subtracted to accommodate various metaphysical theories. In The Devil's Picture Book, Paul Huson mentions a 15th century manuscript with a marginal note that gives a number to each major arcana key. In this system, Strength is 9 and Justice is 20. The French Marseilles decks (1600-1700's) were the first to use the Strength 11, Justice 8 numbering system. They are still popular today.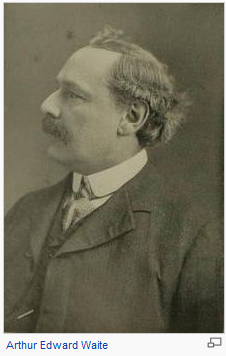 The best selling Rider-Waite-Smith deck, published in December, 1909, was the first deck to make Strength 8 and Justice 11. Both Pamela Coleman Smith and Arthur Edward Waite were members of the Hermetic Order of the Golden Dawn and knowledgeable magicians. They assigned an astrological correspondence to each key and so switched Justice and Strength to make them correspond to Leo and Libra respectively. They also assigned a Hebrew letter to each of the twenty-two keys, but didn't print it on the cards. Their system works so well and the cards are so dense with symbolism that after over a hundred years, the deck is still immensely popular. So much so that many modern decks are described as "Rider-Waite clones." (Wikipedia, Rider-Waite tarot deck entry) One notable exception is the Crowley Thoth deck. Aleister Crowley, also a Golden Dawn member, and Waite were bitter enemies, and their feuding did much to tear the lodge apart. (Wikipedia, AE Waite entry) This may be one reason why Crowley decided to make Strength, or Lust, 11 and Justice, or Adjustment, 8—even though he kept the same astrological and Hebrew letter attributions as the Rider-Waite Smith deck. But you never know with Crowley.
Before the Rider-Waite-Smith deck, the 15th century Sola Busca tarot was the only deck to have pictures for the minor arcana number cards instead of just the appropriate number of cups, pentacles, swords, and wands. Pamela Coleman Smith probably saw them first hand in the British Museum. She was obviously influenced by them because her picture of the three of swords is nearly identical to the the Sola Busca three of swords.
Since I studied astrology before I got interested in tarot, the Rider-Waite-Smith system makes intuitive sense to me and adds another layer of meaning to the tarot's already rich symbolism. That's why I read with this deck and why I used this major arcana order in my first novel, Forging the Blade.