I have been to Stonehenge twice and was in awe of the engineering ability and sheer effort it took to build it, but the whole thing felt somber and empty, like there was nothing there for the living, and possibly never had been.
Stonehenge's neighbor, Avebury, is a totally different story. The stones there feel good and the energy is celebratory and joyous. You could tell by the way they were laid out that they were avenues and enclosures for community festivals. The archeology also supports this.
So how, I had always wondered, would the standing stones of Brittany feel? They are much older, some dating back to 4500BCE—Stonehenge and Avebury date back to about 2500BCE (first stones erected) and 2600BCE respectively. So when my husband and I and Jim and Yvonne, our traveling buddies, decided we wanted to go to Paris, Craig and I put in a request to spend a week in Brittany. Jim and Yvonne were an easy sell after they'd seen pictures of a few alignments.
So we rented a lovely, old farm house in Peillac.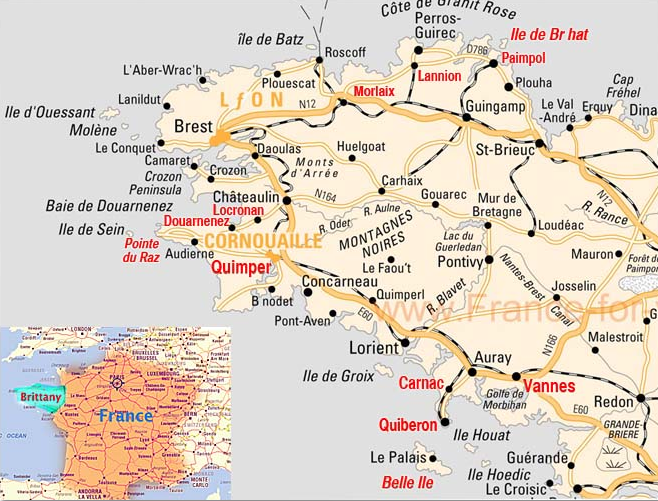 which is way down in southeastern Brittany near the town of Redon.
Our neighbors were very nice.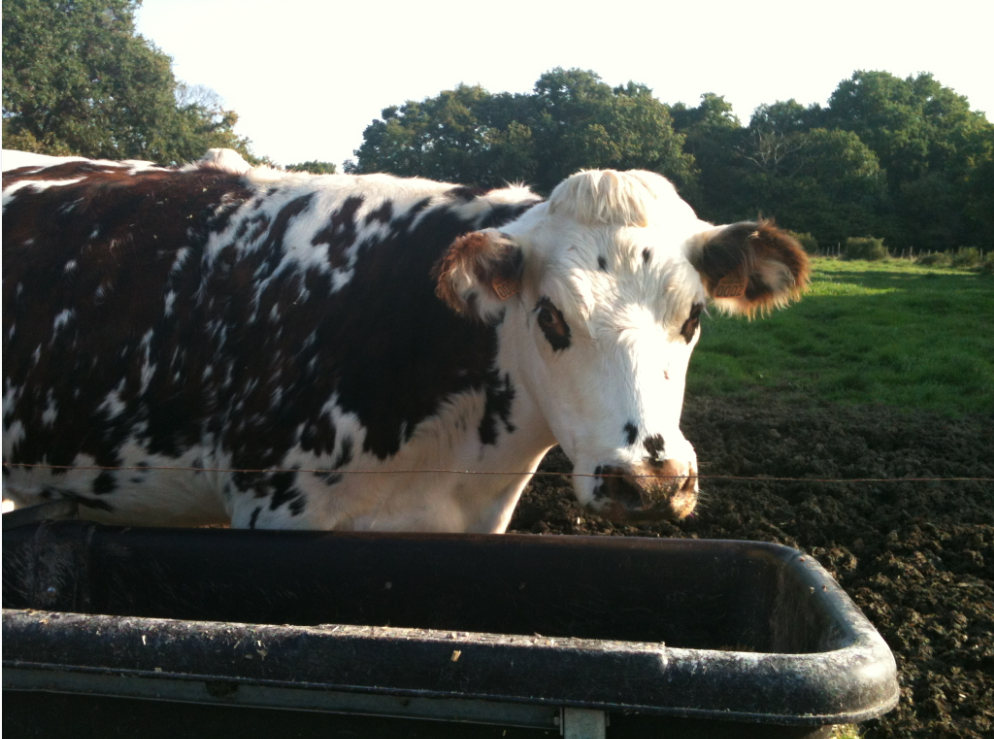 And then we ventured out to see the stones.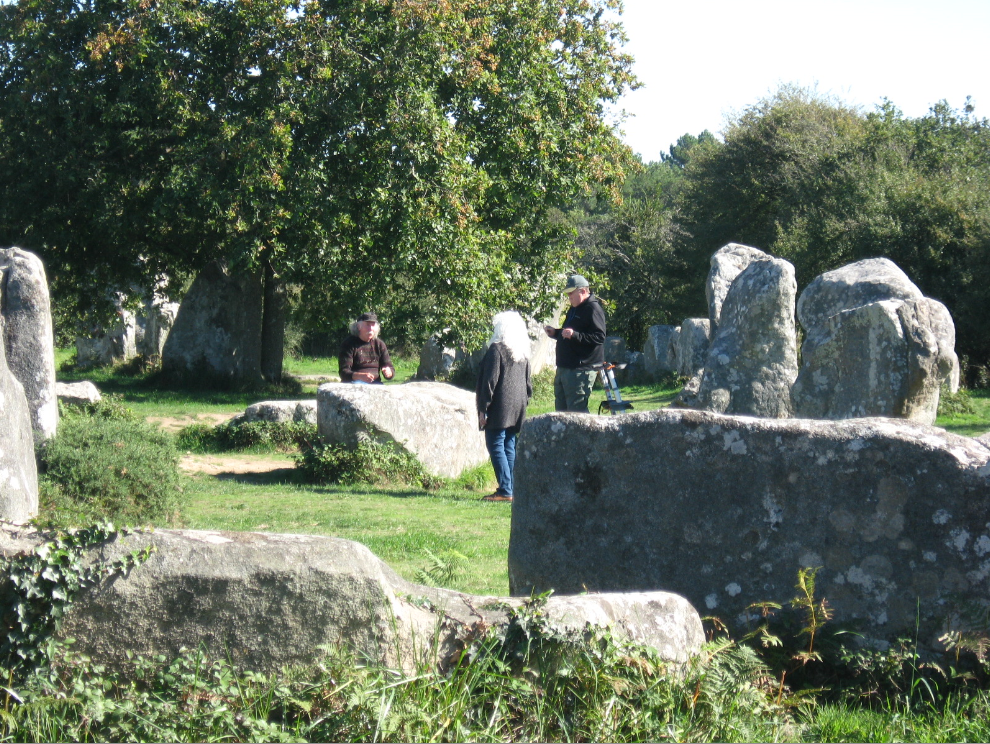 The first ones we saw were the Kerzerho Allignment several miles northeast of Carnac—dozens and dozens of granite slabs and boulders all lined up in several rows and radiating energy. Walking through them was a relaxing, mind-mazing experience. Yvonne pulled out her dowsing rods, and as she walked between the rows they began rotating, pointing first toward one stone and then the next. They were never still.
I began checking how the energy moved in different stones and found that some pulled energy up out of the earth and some channeled it down from above. The flow was quite noticeable. But to make sure I wasn't just making it up, I asked Yvonne and my husband which way the energy was moving in the stones I had tested, and they always agreed with me. However, we could find no pattern. The up and the down stones weren't lined up opposite each other and they didn't alternate. They seemed to be randomly dispersed.
A few days later at the Kermario Alignment at Carnac I took the time to sit still and meditate with the stones. It was a bright, beautiful early autumn day and the sun felt warm and soft on my shoulders. After awhile things got very still and the world…slowed…down. "Why did they bring you here?" I asked the stones. I waited a bit and an image of the stones with a strangely dressed person touching or leaning against each one drifted into my mind and ideas began forming in my head that morphed into flashes of sentences spoken by a voice that wasn't a voice.
"We were used for healing. But this was only one of our many uses. Since you are a healer, we'll tell you a little bit about that small part of our work. The priests who lifted us from our beds and placed us here on the ley lines were also healers. They knew the subtle ways that earth energy and stone work on a body. Each of us has a different effect depending on how deeply we are buried in the ley line, what shape we are, and how our crystals are aligned; and the priest understood each of our talents. At the holy days villages from miles around would gather here and the priests would take each person to the stone that would help him or her most. When everyone was in place, the priests would go to their own stones, activate the entire alignment, and heal their people.
"You have already noticed that some of us pull life force up from the ley line and some pull it down from the sky, but you have drawn the wrong conclusions about how to use this energy. Those of us who pull the life force down, you think of as grounding stones, but what we are actually doing is pulling what you call air prana through the energy bodies and the physical body. The ones who pull life force up from the ley line, you think of as energizing, and they are, but they are energizing with what you call ground prana, earth energy, the stuff you need to heal the physical body.
"Now here is another small teaching for you. When you touch a stone that is pulling up earth prana, which chakra would you open and clear to receive the most benefit?"
My jaw dropped in amazement. I couldn't believe I was being quizzed by healing stones last used by my Neolithic ancestors.
"Base chakra," I replied, hoping I'd gotten it right.
"Yes, and for the ones pulling down air prana?"
I was about to reply "Crown chakra," but thought again. I am a pranic healer and we are taught that the Spleen chakras pull in air prana and distribute it to the other chakras. Hoping that Master Choa had it right, I said, "Spleen."
"Exactly," they replied, and my respect for Master Choa went up even higher.
"This is what we can tell you about why the priests placed us here. But remember, this is just one of our many uses."
As I felt their presence diminishing I thanked them for their teaching and their wonderful energy. Then I grabbed my husband and did a quick healing on him using the techniques the stones had taught me. I had him touch a stone that was pulling up ground prana and checked his base chakra. It felt congested, like there was too much energy coming at it all at once, so I cleared it out and the chakra was now able to take in and assimilate all the energy the stone was giving it. I waited a bit, and then I had him touch a stone that was pulling down air prana. Same story here, only with the spleen chakras. When he released the stone, I stabilized the energy and asked him how he felt.
"It felt great. Very comfortable," he said. I had been hoping for something more spectacular, because I knew that the stones had given him an amazing amount of energy.
As I continued to wander through the stones, feeling their strong, glowing presence, I came upon a large stone that radiated huge amounts of what I now knew to be ground prana. What would it feel like to channel all that marvelous energy through my base chakra? I opened myself and reached out to touch it.
"Don't play with that one!" The stones were suddenly back in my head and most insistent. "You're not ready for it."
I sighed and contented myself with a simple touch and rejoiced in the fact that even after six thousand years the Alignments of Carnac are still alive and vibrant with healing energy.
And that's my story and I'm stickin' to it.