RITUAL:  a sequence of activities involving gestures, words, and objects, performed in a sequestered place, and performed according to set sequence." www.merriam-webster.com
I have friends who go into conniption fits at the mere mention of the word. At its best, they say, ritual is boring and mind deadening. At its worst it is a vehicle of control and oppression.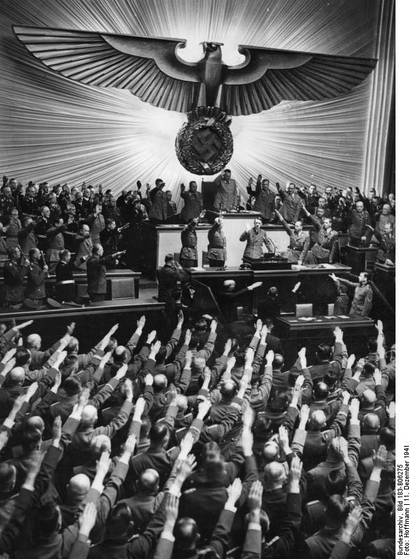 And they definitely have a point. Adolf Hitler was a master of ritual. His highly ritualistic Third Reich whipped Germany into a nationalistic frenzy that led to genocide and world war.
But I try to explain that ritual in itself is neither good nor bad. It is a tool. In fact, it is a very powerful tool. And if it gets used for a good purpose and with skill it can accomplish wonders.
Ritual:
Effectively communicates with and stimulates the often under-used right brain, which is intuitive, integrative, and controls feelings and emotions. This is the part of the brain that is in constant contact with the divine (or universal life force). See previous post
Strengthens communion between the left (logical, linear) and right (emotional, intuitive) brains, which heals and rejuvenates the body, mind, and spirit and is essential for any magical work. See link
Creates community and binds it together.
Is a medium for creative expression.
Is lots of fun.
I am very fortunate to have other friends that love to create and perform rituals. A few months ago I attended a particularly memorable ritual weekend with six close friends. It was a rite of passage that Marlen created for Wendy, who is getting married in August.
According to Arnold van Gennep, French ethnographer and folklorist, rites of passage are divided into three parts:
Separation—in which the initiate is separated her old identity and way if life through physical and symbolic means.
Transition—which is a time of ambiguity and disorientation. The initiate has been stripped of her old identities, but has not yet acquired her new one. This stage is marked by ritual ordeals, preparation and/or training.
Incorporation—in which the initiate is ritually confirmed in her new identity and community.
The ritual that Marlen designed for Wendy was primarily concerned with separation, the first phase.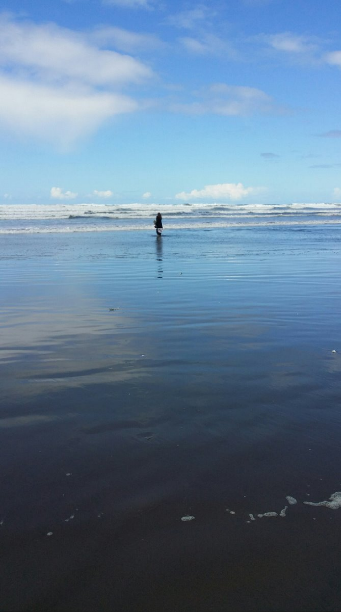 We physically separated her from her everyday life by taking her to a condo on the beach for the weekend. The first order of business on Friday evening was a ritual bath for the bride-to-be and the rest of us in the hot tub overlooking the beach, symbolically and literally washing away the cares and worries of our every day lives and cleansing our spirits in preparation for the ritual to come. Next came dinner, wine, and conversation—physical and spiritual fortification.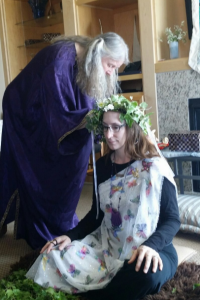 The next morning, after a leisurely breakfast, we decorated the living room (which had two glass walls overlooking the beach and the Pacific Ocean), cast the circle and began the ritual. We placed a wreath of flowers on her head and Diane assumed the role of Atropos, the Greek Moire who cuts the thread of life. As each of us and then Wendy named a thing, idea, way of being, or self image that she would have to let go of before assuming her place as a married woman, Atropos cut a ribbon from a spool and we tied it on Wendy's wreath.
When we were finished, we moved the ritual out to the beach and Wendy threw her wreath full of things to let go of into the vast, blue Pacific Ocean. Sheila drew a labyrinth in the sand and we all walked to its center, placed an offering, and walked back out.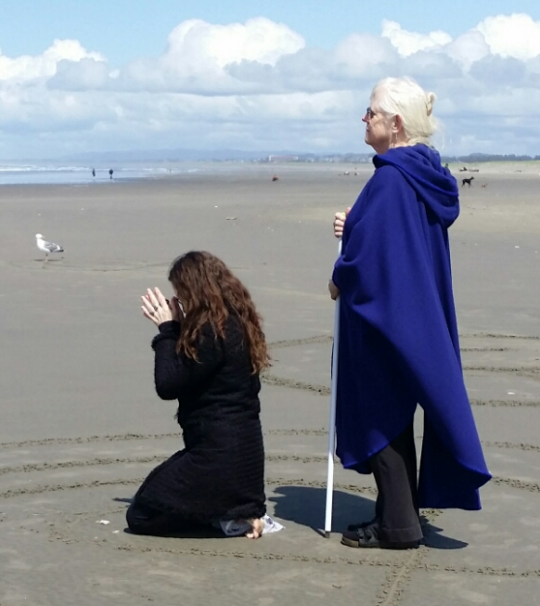 Back in the condo, we refreshed ourselves with more food, wine, and conversation and began the last part of the ritual. We braided the ribbons that Wendy and Dan had chosen for their hand fasting cord, charging them with love and good wishes. Then, using bright colored paints, pens, and stickers we drew happy marriage symbols all over Wendy's body. Power serpents wriggled up her legs, red hearts dotted her cheeks and breasts, and energy spirals coiled around her bellybutton.
After we had her suitably decorated and blessed, we closed the circle, fixed dinner, and partied the rest of the evening.
The ritual was a total success. The next day Wendy, and to a lesser extent all the rest of us, returned home as changed women. The gods and energies we invoked worked their subtle magic on our spirits, cleansing them, reworking them, and fine tuning them; making us more capable of living our lives gracefully and fully.
Rituals and rites of passage like this one align our bodies and souls with the rhythms and turnings of our lives, allowing us to savor them, understand them, and accept them. They make our lives more meaningful and joyous. When large numbers of people do ritual together (i.e. attend church, go to festivals, watch the opening of the Olympic games, watch the ball fall on Times Square, etc.) it puts them all on the same page, makes them feel like part of a greater whole, and creates community.  All types of ritual are really important, and our society generally tends to ignore or short-change them. The result is a population scattered with lost, unhappy souls.