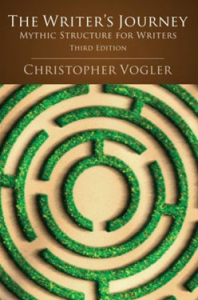 Christopher Vogler wrote a book called The Writer's Journey, Mythic Structure for Writers (first printing, 1998). Borrowing heavily from Joseph Campbell's landmark book, The Hero with a Thousand Faces (1949), and the work of Carl Jung, he was the first to describe The Hero's Journey as a template for stories. I used to wonder why he called it The Writer's Journey instead of The Hero's Journey, but over the years I've come to understand.
Vogler wrote his book for writers, and learning to write is a true Hero's Journey. But unlike a story, which has a beginning, middle, and end, the writer's journey never ends. It's not a circle; it's a spiral. Each turn takes you deeper into the mystery of how to create a story. The stages and archetypes that Vogler describes remain the same, but they are portrayed by different events and people with each turn. At the start of my journey: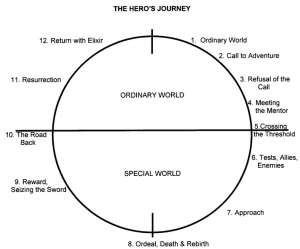 The Ordinary World was my life experience: family and friends, the places I'd been, my belief system, my interests outside of writing, etc.
The Call to Action first came with the feeling that something was missing in my life. Then came the niggling suspicion that it was writing. I needed to write.
The Refusal of the Call took many forms: I convinced myself that I had no time and no talent. I was afraid of trying and failing.
Meeting the Mentor happened when friends that did write encouraged me to keep writing.
Crossing the Threshold happened when a few of those friends read my stuff and liked it. I was hooked.
Tests, Allies, and Enemies took the form of encouraging friends, self doubt, honing basic skills, learning from mistakes, making time to write when there wasn't any, and keeping focused.
Approach to the Innermost Cave involved gathering up my courage and getting Forging the Blade ready to read to actual writers.
The Ordeal was my first readers and my writer's group's inevitable criticism. Fortunately they were kind and left me enough shreds of self-esteem to continue to the next stage.
Reward or Seizing the Sword happened as I absorbed and sorted through that criticism and saw ways of using it to improve the manuscript.
The Road Back was the revision of the manuscript.
Resurrection was going over the revised manuscript and realizing it was so much better. Unlike a story hero, I repeated stages 7-11 several times.
Return with the Elixir happened when I was satisfied that my book was as good as I could make it and ready to send to agents and publishers.
With the second turn I wrote Mainly by Moonlight. My Ordinary World had changed because, of course, my life had changed. The Call to Action was the idea for the second book. There was no refusal of the Call and the Threshold was nonexistent. My mentor was my editor, Jessica Morrell. Tests, Allies, and Enemies were the same but slightly different. For instance, I'd gotten much better at the basic skills and was working more on plot and character development. I didn't have to go through stages 7-11 quite so many times.
I am now on the third turn. I submitted both manuscripts to Jessica to edit. She had helped me with bits and pieces of them, but had never looked at them in their completed form. She earned every bit of her fee. She tore them apart. Reading her critique was a heartbreaking ordeal. Her comments were extensive and she did a line by line edit on Mainly by Moonlight, but the first paragraph of her critique sums most of it up:
"There's so much to like and appreciate in this story. (Mainly by Moonlight)
1. Fabulous title.
2. Plausible continuation of previous story.
3. Improved writing overall and gorgeous descriptions and wordplay, as always.
Some of the main problems I see with both books is that you're not following a three-act structure with clearly-drawn plot points and reversals and that you're focused on the lessons you want to teach young readers instead of plot. But genre YA is tightly wound and plot-driven. And it is not about finding issues, theories, philosophies and then creating a story around it. It is about finding the right voice, finding the right character, and telling his or her story."
Her other basic concerns were equally alarming:
Molly is not a likeable character. She has entitlement issues, a chip on her shoulder, and does not exhibit or even begin to exhibit the necessary warrior virtues. (I love Molly and think she is perfectly likeable, but I know what she's thinking and why she does what she does, and all to many times I forget to tell the reader. Oops.)
Although sex is perfectly appropriate in YA, some of the sexy scenes in Mainly by Moonlight are predatory and inappropriate. (I hadn't meant those scenes to be predatory, but now that I look at them I can see what Jessica's saying.)
Too many magical elements such as portals, time travel, wormholes, divas, theurgy, vampires, werewolves, etc. She suggested I focus on the important ones and throw out the rest.
The tension isn't kept high enough. The central question of "Who killed Shandra?" needs to be front and center at all times.
Jessica's experienced and unbiased eye spotted problems I never would have seen and a few that I did sort of see but didn't want to change because I was emotionally attached to them. I am now in the process of absorbing her advice and figuring out how best to apply it. It will take months of work, but when I'm finished the books will be much, much better, and, I hope, publishable.
This is why writers have editors.