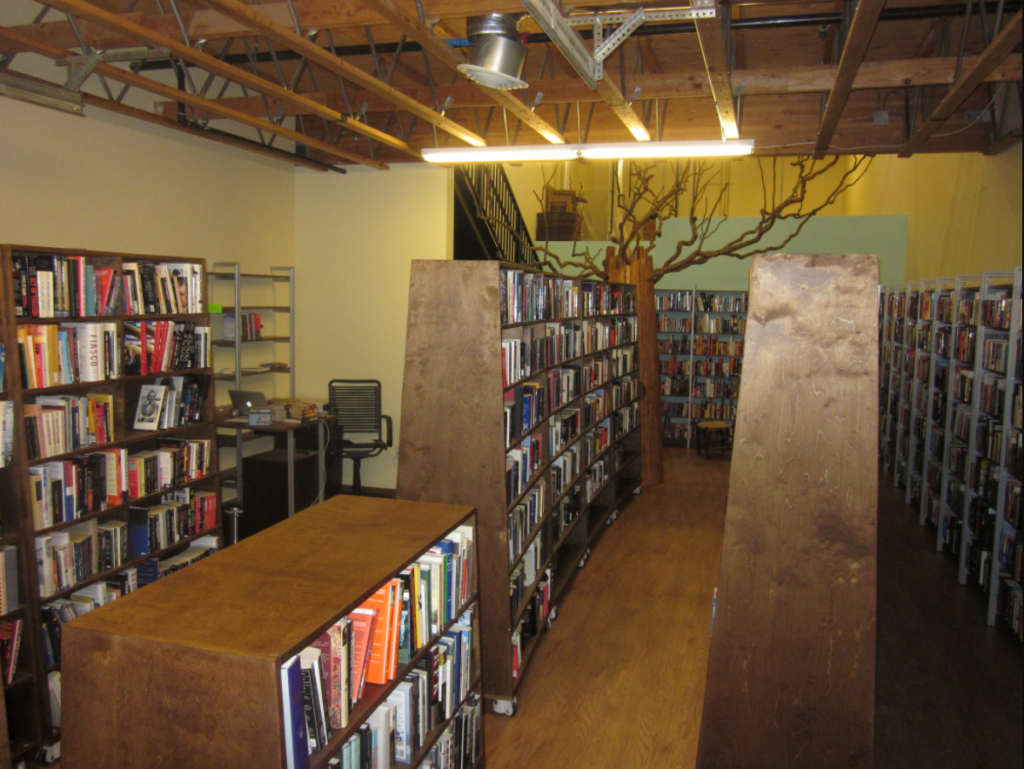 After I got done being hysterical: Oh shit oh shit oh shit! I can't do a book launch with no books! People are coming because they want the book and Another Read Through wants to sell it to them and so do I. What's the point of a book launch if there are no books to launch? Etc., etc., etc.
And then I took a deep breath (always a good thing, but, yes, this is probably the most over-used phrase in modern fiction, but I really did take a deep breath, in fact I took several) and it slowly dawned on me that a book launch is not just about selling books, it's also about celebrating the birth of a new book, the manifestation of an idea born out of gallons of blood, sweat, and tears.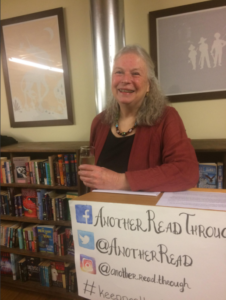 OK, fine, I could work with this.
I did have plenty of copies of Book One, Forging the Blade, so I decided to sell it for $10 instead of the $13-$16 that it usually costs.
I also had one copy of Mainly by Moonlight, which I decided to raffle off free of charge. (My niece won it. It was fair—honest, I didn't even do the drawing. Thalia probably won because she was the only young adult in a room full of adults, most of whom were well over 50, and The Mage Web Series is YA fantasy).
I was amazed and totally honored that so many people came, even though I'd sent out a notice that there wouldn't be any new books for sale. Some traveled from as far away as Salem, OR and Longview, WA. Thank you so much to you all. You made my heart sing!
And we had a wonderful time. We celebrated, and drank champagne, and enjoyed each other's company.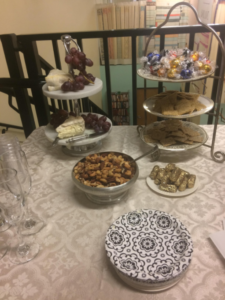 For those of you who couldn't be there, here is a printed rerun of the talk I gave and some more pictures: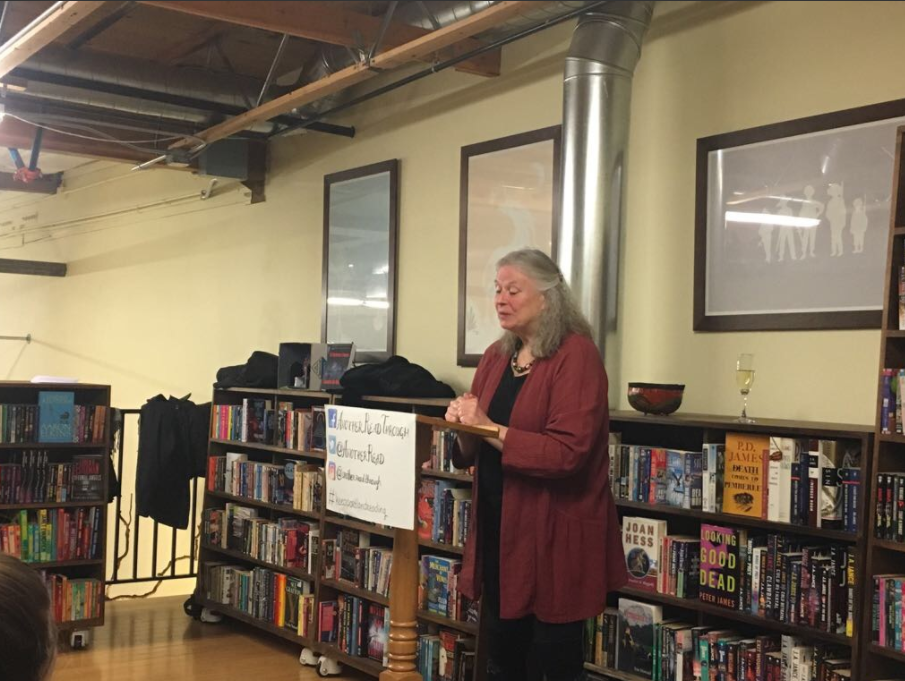 Most book launches start with the author reading from her book. I've never understood this. You are all perfectly capable of reading from my book. Instead I'd like to talk about the writing process. Specifically, about the question that authors dread in interviews: "Where do you get your ideas?"
In her latest book, Big Magic, Creative Living Beyond Fear, Elizabeth Gilbert, author of Eat Pray Love, offers an explanation that I am particularly fond of. She says that ideas, and these are not just ideas for novels, they are ideas about everything—a work of art, making a dress, building a bridge, writing a song or poem—don't originate with us, they are constantly floating around outside of us. The Multiverse is packed with them. And they each have a life a life and personality of their own, and they each have one burning desire: to manifest into the physical world. They do this by finding a receptive brain, slipping into it and taking over the body. This idea isn't new—it's as old, if not older, than the ancient Greeks and the Muses. But Gilbert puts a new an interesting modern spin on the concept.
She even explains how to attract an idea—you must open your mind and be still and listen. Not things that we are used to doing in this culture.
The idea for Forging the Blade possessed me over twenty years ago in a unguarded moment of quiet. It patiently waited for me to learn to write, but was quite demanding as it began taking over my life. Before I had even finished writing the first book, the idea said, "No, no, no. You're not done yet. There's more of me!" And the idea for Mainly by Moonlight slipped into my brain around ten years ago. I must admit that my idea does try to help whenever possible. Every time I encountered a problem with either book, or needed information, a synchronicity would magically swoop in and save the day. This happened so many times I quit counting, but I'd like to tell you about one of my favorites.
Most of Mainly by Moonlight takes place in and around Grant High School in NE Portland, but there is a chapter in which the Librarian describes the origins of the Mage Web and the formation of Tesseract Academy, their training school located at the center of the circle of time. It all began in Alexandria at the Library of Alexandria at the time of Cleopatra and Julius Caesar. Now I've been to modern Alexandria, and it's a beautiful city, but what did it look like in the first century BCE? And what did the library look like?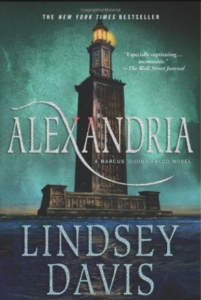 As I was pondering these questions and wondering how I was gonna research them, I went to the library looking for a bit of light reading. I love murder mysteries, so I went to that section. The first book I saw was Alexandria, a Lindsey Davis Didius Falco novel!!! It's set in Alexandria in the first century CE—a hundred years later than my book, but close enough—and involves dead bodies being found in the Library of Alexandria. Davis is a painstaking researcher and her book provided me with enough information and ideas to write the chapter! How cool is that?
And my idea still isn't content. I'm half-way through Book Three—it's working title is Hell's Gate—and plotting Book Four. But we are here to celebrate the two actual manifestations of my idea: Forging the Blade and the publication of Mainly by Moonlight.
Let's raise our glasses in a toast to the ideas of Forging the Blade and Mainly by Moonlight!
It took almost a whole village to actually manifest the idea of Mainly by Moonlight.
First someone had to write it. That would be me.
Then the first readers, that would be Dick and Karen Seymour, had to read it and gently—or not so gently—tell me what they did and, more importantly, didn't like.
I fixed it, proofed it, and sent it to my amazing editor, Jessica Morrell, who picked apart the plot, and character and theme development, word usage etc. It was a bloody carcass when she sent it back, but The Mage Web Series is much, much, better because of her excellent work.
After I recovered from the shock of her edit, I rewrote the book and send it to my Beta reader—for Mainly by Moonlight, that was Mike Howard. His suggestions and critique, especially of the Alchemy Lab scene, were invaluable.
I did a quick rewrite and careful proof and sent it to my intrepid proof readers, Becky Mellinger and Johanna Norton. Their expertise saved me from looking like a fool many times over.
I emailed Ture Ekroos, a professional animator in Vancouver BC, and begged her to do another front cover for me. She accepted the job and after months of back and forth emails, arrived at this beautiful cover.
At the same time, I somehow talked Adam Forrest into doing the graphic design for the back cover and interior. Again, it's beautiful.
My two sons, Todd and Ian, helped me with the web site and solved quite a few computer problems for me.
And then, my daughter-in-law, Esther Rmah Lavielle, and Jessica Morrell helped me figure out how to sell it—no small feat, trust me.
My friends,Yvonne and Marlen, helped put on this launch.
And Elisa, owner of Another Read Through provided this space to celebrate and to sell the book.
Thank you thank you thank you everyone!